Seven Oaks Community Updates
This page has been established to provide the Seven Oaks community with updates following the impact of Tropical Storm Hilary on August 20, 2023. This storm brought historical amounts of rain and wind, resulting in the destruction of bridges and roads throughout the county, with Seven Oaks being one of the hardest-hit areas. Here, you will find information compiled by San Bernardino County Public Works to keep the Seven Oaks community informed about ongoing cleanup efforts, repairs, progress, and future plans for the area.
Click map below for before and after interactive map images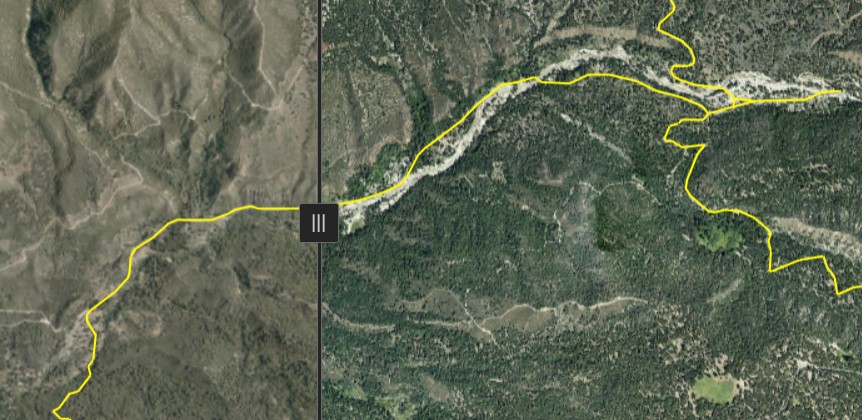 Public Work Status Updates:
| | |
| --- | --- |
| August 21-25 | Road closures and damage assessment on foot. |
| August 23 | Securing of aerial flights. |
| September 1 | Completion of Middle Control Road repairs for emergency access. |
| August 23 – September 7 | Agency coordination and environmental review. |
| September 7 | Completed aerial flight of damage. |
| September 11 | Contractors secured and began mobilization of equipment. |
| September 12 | Contractors begin temporary road construction – south/west end. |
| September 13 | Federal funding agency coordination field assessment. |
| September 15 | Meeting with DPW staff, US Forest Service and US Army Corps of Engineers to discuss the details of installing a temporary road within US Forest Service and other lands, including environmental clearance. |
| September 18-19 | US Forest Service flagging for culturally sensitive areas |
| September 20 | Coordination with Public Works, US Forest Service, Army Corps to finalize environmental constraints. Authorization to proceed in US Forest lands anticipated September 21, 2023. |
| September 20 – September 22 | Installation of emergency temporary road for construction access to begin. Installation of emergency temporary road for access includes the first phase of center flowing the river to re-establish river alignment away from temporary road location. After river re-alignment, emergency access road will be completed. Current estimated time is 2 months. Check for updates on a regular basis as progress continues. |
| In Process | Design of permanent repairs and bridge replacement. |
| Late Spring 2024 | Construction and paving of permanent repairs. Completed when required paving temperatures are met. |
Utilities Service Provider Updates:
Caltrans Updates:
Seven Oaks Damage Photos
Seven Oaks Progress Photos
Additional Questions?
Contact San Bernardino County Public Works – Contracts Division for additional information or questions at (909) 387-7920.