Evacuation Information
California Standard Statewide Evacuation Terminology
Evacuation Order: Immediate threat to life. This is a lawful order to leave now. The area is lawfully closed to public access.
Evacuation Warning: Potential threat to life and/or property. Those who require additional time to evacuate, and those with pets and livestock should leave now.
Shelter in Place: Go indoors. Shut and lock doors and windows. Prepare to self-sustain until further notice and/or contacted by emergency personnel for additional direction.
Evacuation Order(s) Lifted: The formal announcement of lifting evacuations in an area currently under evacuation.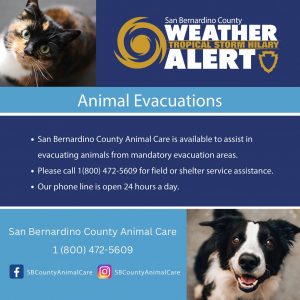 Attention communities of Oak Glen, Forest Falls, Mountain Home Village, Angelus Oaks, and NE Yucaipa: Small animals and livestock will be accepted at the Devore Animal Shelter. If you require assistance with animal evacuations, San Bernardino Animal Care is here to provide help. Please call 1-800-472-5609.
Individuals who have animal care questions can call Animal Care at 1-800-472-5609. To donate to assist animals at the shelter, please visit www.arffund.org.